About PARTS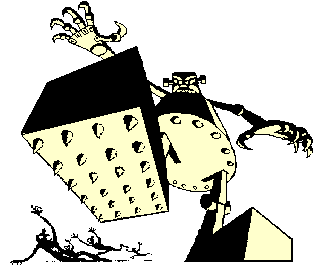 The Portland Area Robotics Society was formed to help those interested in learning about and building robots. It includes professionals, amateurs, students, college professors, engineers, artists, hobbyists, and tinkerers. PARTS members explore all aspects of robotics and work toward expanding communication between robot enthusiasts. They share ideas, experience and enthusiasm for building robots.
You can read our official statement of purpose and organizational structure in our bylaws. Our latest executive board members were elected in December, 2007 and will serve until December, 2009.
We encourage you to bring your robots to the meetings, working or not! Not only is it interesting to see what others actually are building, you'll find that PARTS members are a diverse bunch with a wide range of robotics knowledge. If you are having trouble doing something, finding something, or making something work, chances are high that someone can help!
Meetings of PARTS are informal affairs. We do ask each visitor to wear a name badge so we can all learn each other's names. Everyone, whether an old hand or new arrival, gets a chance to speak if they want to. This is your chance to share your ideas, ask questions, and show off your robot!
Although there are no set rules that limit speaking time for each person, it is important to be brief and mindful of the number of other people who also want to speak.


Origin of PARTS
The Portland Area Robotics Society was founded by the fantastic, creative, inspiring, talented, humble, down-to-earth Marvin Green, many years ago. Historically, the club has always rested entirely on his shoulders (sorry if there are some of you out there that have helped him over the years that we are unaware of).

Over the years Marvin had been responsible for:
running the meetings
paying for and updating the web page
writing the newsletter (see back issues here)representing the club at functions, such s the OMSI Robotics Competition held in April 2000
running the competition
To lighten the burden on Marvin, so he could get back to building robots, club members have taken over many of these tasks. This website is a case in point.


About our website
Thanks to Rich Bader, President of Easystreet Online Services, for the years of hosting our website. Thanks, Rich, for your tremendous generosity!
Since we began collecting dues in 2003 we have been able to purchase web space at Inmotion Hosting which has allowed us to expand our site as well as our competition website pdxbot.org .
Contact us
If you would like to contact us about this website please send email to vicepres@portlandrobotics.org. All robot related questions should be posted to our group.